Adobe MAX snuck up on me this year, but as always they have put together a great lineup of talks on a variety of subjects. Here are my thoughts on a couple of the talks I attended.
The Power of Color in Graphic Design
Presented by Zipeng Zhu
This was such a fun talk about finding your own personal brand and celebrating color. Zhu showed some of his recent work that featured bright colors, fun patterns, textures, motion, and bold typography. It was really inspiring to see the way that he plays with color to create eye-catching advertisements and even the posters he created just for fun that ended up turning into a really great opportunity. I was really drawn to the packaging he created for Novo with the geometric shapes and bright colors.
If you're looking for some inspiration or want to see some really cool work I highly recommend this talk. He did a great job highlighting the joy of creating and I will definitely be following his work in the future.
New Directions in Readability and Accessibility
Presented by Zoya Bylinskii, Aleena Niklaus, Rob Haverty, Stephanie Day and Tianyuan Cai
This was without a doubt my favorite talk of the entire conference. I've been learning more and more about accessibility since starting at RDG so I was glad to see they included a discussion on the readability research happening at Adobe. The first tool they introduced was a color picker that tests for potential color conflicts for users with different types of color blindness. I thought this was really interesting because the color wheel showed the conflicts lines between colors. I could see myself referencing this tool a lot in the future.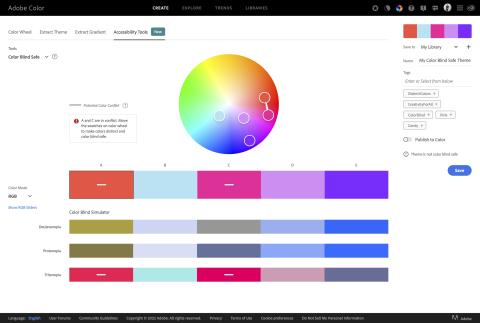 The other tool they talked about was a digital reading ruler. Reading rulers are great for people with dyslexia or readers who show signs of reading difficulties. I had no idea reading rulers existed, so when I was young I would often use my pencil or a bookmark to follow along when reading. Now when I'm reading on my phone I find myself using the top of my screen as a way to keep my place while reading. The three concepts for digital reading rulers seem like a great tool for aiding readers and in some cases helping them read faster.
I'm excited to see how these tools are developed in the future.