When Rapid Development Group was formed in 2009, our mission was to provide expert web development skills to our clients, and nothing else. This guiding principle led us to several clear conclusions. We needed to hire employees based on talent and communication skills, not for growth's sake. We needed to pursue modern cloud hosting and support services, rather than investing heavily in hardware and server maintenance. And we needed to minimize the overhead costs that support our business.
The biggest cost facing us, as with most fledgling businesses, was rent. Office space is expensive! Our direction was clear: work out of our homes. With only three of us to support, alternating between our homes was the right solution at the time. We were able to make quick and efficient progress on client projects without passing a big bill on to them.
Times change, and so do the best solutions. Two years in, we were 33% bigger, and it was time for us to have space outside our homes we could use from time to time. And yet, we wanted to retain the efficiency and flexibility we had become accustomed to. Fortunately, a new opportunity came along to us: co-working.
Our New Workspace
In 2011, we began spending time working from The Factory, a small but vibrant community growing in downtown Grand Rapids. The Factory's co-working model allowed us to carefully expand our workforce bit by bit, as the right people came along, without biting off more than we could afford. We get a desk, WiFi, and good coffee: everything a web developer needs.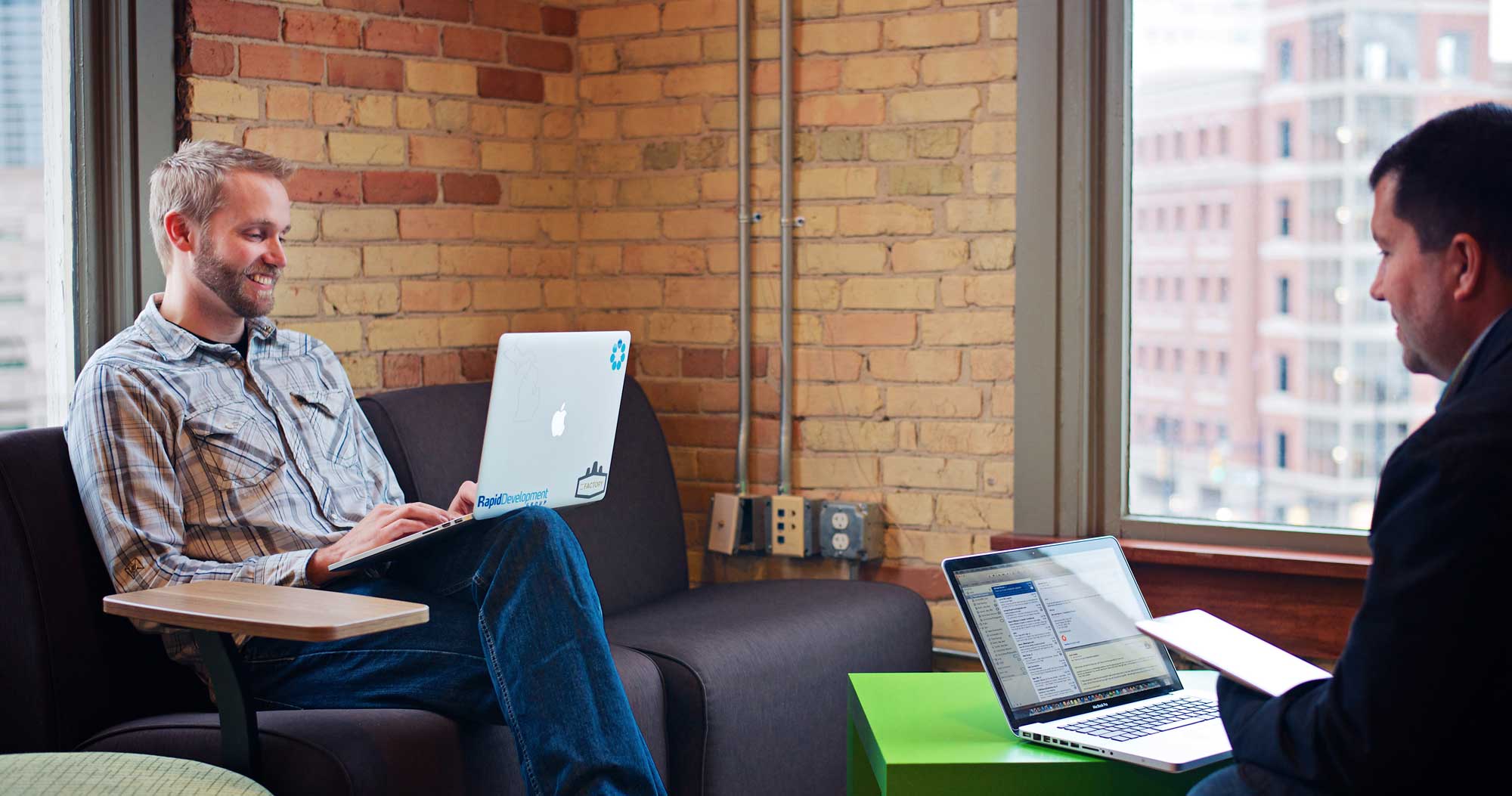 As we have grown, The Factory has grown with us. Now we are nine developers strong, and are confident we have a home that will serve us for the foreseeable future.
Benefits to you
The Factory has been a great fit for us, but not just because of our bottom-line goals. Our clients win too!
Savings
The first benefit is the most obvious. Compared to other downtown office space options, The Factory is very affordable to us, and we are able to pass that on to you in the form of very competitive rates for expert development experience.
Expertise
The Factory has also been a boon to us and our clients because of the collection of great co-workers we are exposed to day in and out. We know lawyers, accountants, and marketers. We talk with artists, writers, and entrepreneurs. And we collaborate with experts on Wordpress, Expression Engine, Ruby on Rails, Git, Clojure, and just about any other technology you can think of.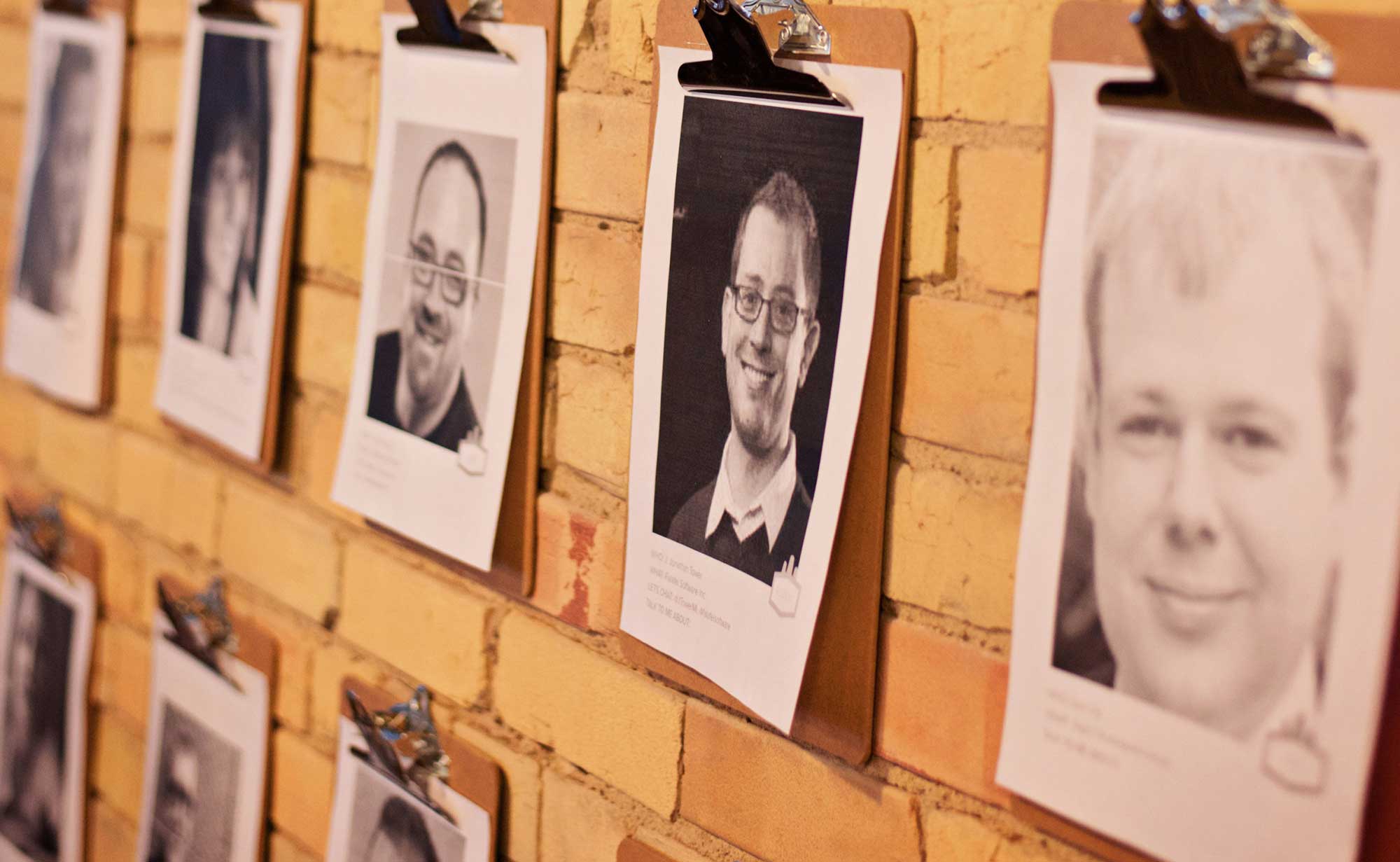 When we began this adventure, we tried to be everything to everybody. We're proud of what we accomplished, but we quickly determined that this wasn't the right way forward. Our clients are served better when we specialize in a few areas, such as Drupal development, and excel there than by us trying to do everything. And so, now we don't take on work that requires specialties we do not have.
Because of our contacts at The Factory, we are able to pass these projects on to people who will deliver quality results. This helps our clients, helps our colleagues, and helps us when the reverse occurs.
Community
Finally, we thrive at The Factory because of the fantastic community we are a part of. We come together for shared lunches, friendly games, holiday potlucks, and weekend celebrations.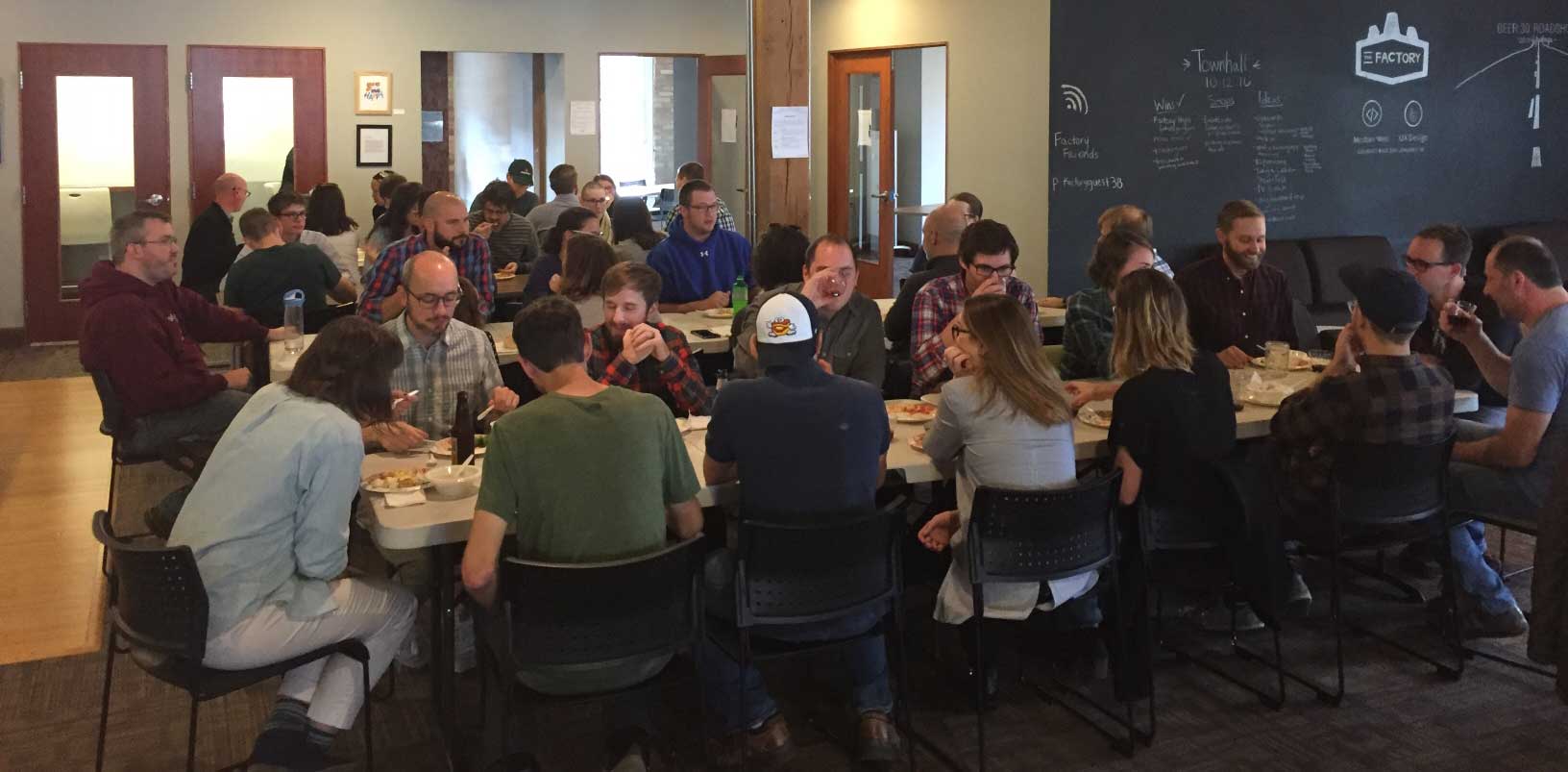 Even in this, our clients benefit. The Factory serves as host for community groups that make us better developers, such as the Grand Rapids Drupal User Group which we organize. At these GRupal meetups, we educate one another about a wide variety of Drupal development topics, and then use that expertise to serve you. These meetings are open to the public, as well, and we happily count many of our clients among our membership. Adding to the Drupal skill base of our community lifts all boats, bringing more work to us and more options to our customers.
Come visit us soon, and see how we work together!