User Experience Design
Outstanding usability that embraces your brand
Humans should come first.
Human-centered design starts with an understanding of your users and their context. This perspective is the starting point for all design and development. As a result, our design extends beyond branding, usability and accessibility — though these are all very important — to encompass other aspects of the user experience, such as efficiency and fun.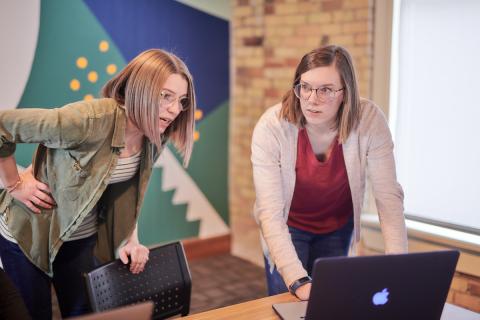 Expressing your brand through digital experiences 
Your brand is much more than a logo or visual identity — it is a cohesive system that spans across all mediums and touchpoints. More than ever before, digital experiences are central to your customers' impressions of your brand. We help you stay true to your brand while also embracing current digital design trends and best practices.
User Experience Experts
Our user experience team is constantly on the lookout for new developments, trends, and best practices in the field of UX design. 
Customer Journey Analysis
A person's experience with a website is optimized not only by page organization and layout, but also user workflows to complete tasks. People are smart, and by studying your audience's habits, preferences, and tendencies, we gain the insight needed to build an intuitive experience that increases customer satisfaction and reduces frustration.
Prototyping
Determining the structure of a website or application starts with a blank whiteboard. Collaboratively mapping out user workflows and sketching out wireframes lays a strong foundation for later design and UX decisions. By allowing the site and page architecture to be more fluidly developed in the beginning, the result is a solid product that accounts for extensive use cases and possibilities.
Visual and Graphic Design
A company's brand is more than a logo. It's the look and feel, marketing copy, even the way employees present themselves. Our designers are skilled at both translating your brand to your website and coming up with a great identity from scratch. With knowledge across the design and development spectrum, we're well equipped to deliver a product that exudes your brand's essence while adhering to best practices.
Interaction Design
The way your website responds to user input is crucial to a great user experience. Planning out all of the micro-interactions and little moments of joy that your users will experience — the way a hidden menu animates into view, displaying success and error messages as a form is filled, even the way a button changes appearance when focused — will elevate your website, and brand, to the next level.
Ready to put the focus back on humans?